C, Firmware update guide:

1, Download the update tool . (Read below guide careful )
http://www.audio-gd.com/USB32firmware.rar

Please note :
A, Now we have the update introduce video for download:
http://www.audio-gd.com/Update%20introduce%20video.rar
B, The firmware download tool only applied under Windows XP and Win7 .

C, Before reflash the firmware, must uninstall the old driver .
D, Uninstall the old driver : Connect the USB device and power on , click the " Install. exe " of the old driver , select option "Remove" . After uninstall succeed, restart the computer is necessary .

E, If user use the PC , please connect the USB port which is built on the mother board ( usually is on the computer rear) , if connect to the USB port on front, some case the USB port connect long wires connect between the mother board the USB port maybe cause the flash firmware have interrupt . ( The USB audio device always connect to the USB port built on mother board have better sound ).

Warning :
A, The tool is a common and have be test a lot years in VIA company without problems, we have flash the chips more than thousands for every products without anyone fail , but we can't warranty any one can applied succeed , if users have fail flash the firmware, we can't offer the warranty, users must want to correct the operate, or buy the new firmware chip from us , price is USD1.5 / pc exclude shipping cost .
B, During flash the firmware chip , the USB device and the computer can't lose power, the USB cable can't have bad connect, otherwise will shatter the firmware chip .
Firmware update steps :
1. Users must connect the USB device and power on , uninstall the old driver and restart the computer (Please made sure the uninstall is succeed) .
2. Unzip the firmware download tool by RAR . Click the folder "Firmware update tool"
2.Click the file ViaDfuTool.exe

3. After run the ViaDfuTool.exe file , appear a window " VIA USB Firmware Upgrade ".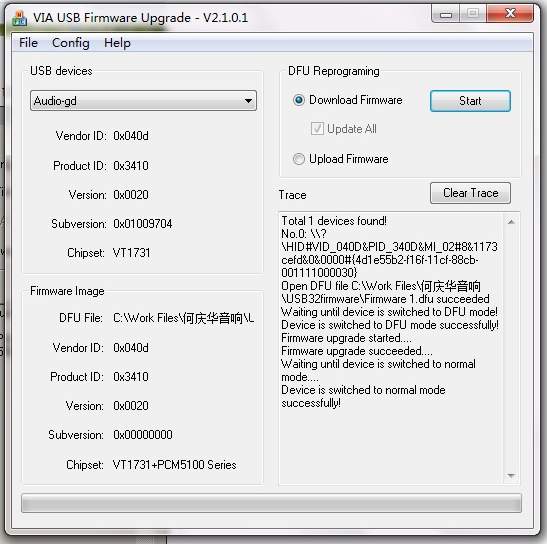 4. Click the menu " File " and select the option "Open Image"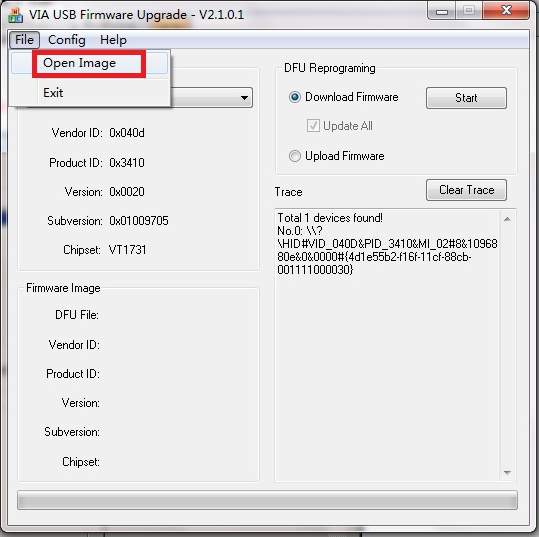 5. This step is very important ! Can't make any wrong operate .
Select "All Files(*.*)" as below window , select the Firmware *. duf file which is you want to update .
(You can select either Firmware 3.dfu , Firmware 4.dfu, Firmware 5.duf , Firmware 7.dfu ect . If select a non-duf file, may shatter the firmware chip and you want buy the new one for replace ) .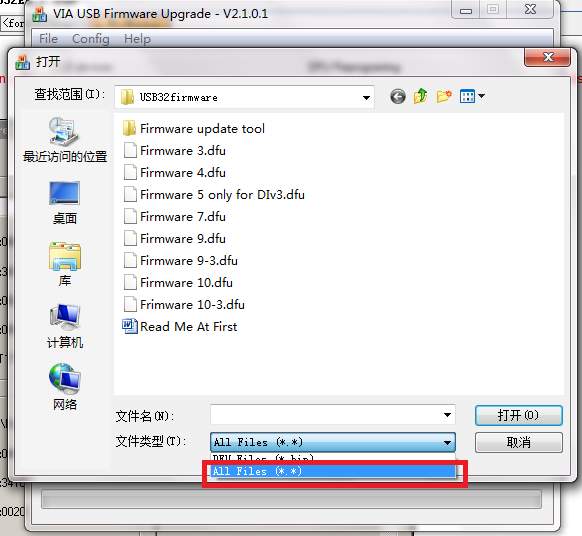 6. Click the "Start" button ( please made sure the "update All " have be select as below picture ) .
7, Waiting around 30 seconds until the update finished , you can see the Subversion number have change, and the Trace window have display " Device is switched to normal mode successfully" ,close the tool, restart the USB device and the computer .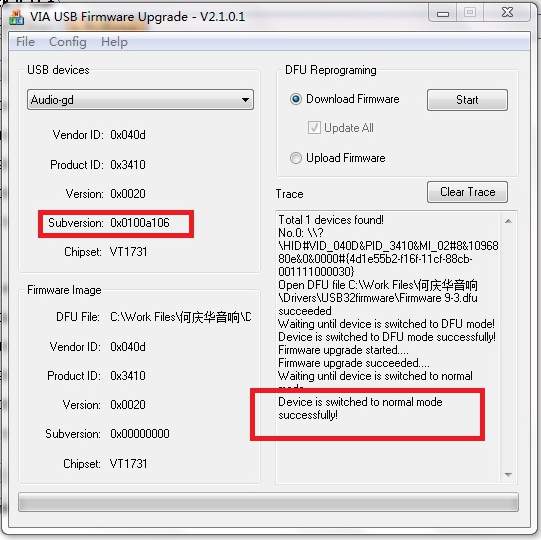 8,Install the new driver V2.0 ( Or the proper driver version) .