Setting button:
The output voltage level can select between 2.5V +2.5V (XLR) and 1.25V +1.25V (XLR), which suits different amps .
H: High voltage level output. 2.5V +2.5V (XLR) or 2.5V (RCA).
L: Low voltage level output. 1.25V+1.25V(XLR) or 1.25V (RCA)
The display auto dark : Push into the jumper is auto dark .Please operate the jumper while the unit power off .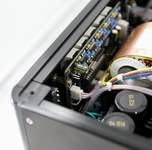 DSD / PCM support from I2S input :
The DSD/PCM support not only from the USB input, but the I2S input. The NFB-1 can detect the I2S input signal, if input DSD signal, it will auto to remove the DSD pop noise while select the DSD track .