Click to read the USB-32 character USB-32 Introduce

Reviews:
http://www.tonepublications.com/macro/audio-gd-reference-10-2-dac-and-more/
http://www.head-fi.org/t/601259/audio-gd-reference-10/135#post_8543066
http://www.digitalaudioreview.net/2011/04/audio-gd-reference-71-dac-8-x-pcm1704uk/

DAC / Headphone amp / preamp all in one
Fully balanced design built by discrete analog stages without any OPA and couple caps in the signal channels.
Non- feedback ACSS analog output stage .
Uses three R-core transformers (135W total) separate power supplys for the digital part , right channel and left channel.
More than 50,000uf audio grade NOVER capacitors are used to ensure ample and smooth power feed.
A total of 9 groups class A PSU are used to purify the power supply. To achieve high S/N, the control circuit is powered with separate regulator.
Uses most Hi-end grade parts and exact match transistors.
Four channel 99 steps digitally controlled relay-based volume control to avoid channel imbalance and improve sound quality.
5 groups digital input : AES / BNC+RCA coaxial / RCA coaxial / Optical / USB
3 groups analog preamp input : XLR / RCA / RCA
Preamp / DAC output : XLR / RCA / ACSS (variable)
Headphone output : 4 pins XLR / 6.3MM SE
USB Audio Class 2 High-speed Input from Windows / MAC / Linux ( We can not guarantee it can working with every Linux device )
Supports High / full speed Asynchronous Transfer Mode up to 384K / 32Bit ability .
Resolutions support 16 / 24-Bit with sampling rate support 44.1kHz, 48kHz, 88.2kHz, 96kHz, 176.4kHz, 192kHz ( USB model)
Supports up to 24Bit/96KHz (coaxial / AES / Optical )
The DSP-1(V5) digital processor can supports NOS, 2X, 4X and 8X oversampling customers setting.
Memorizes all settings and it could resume the last settings when power on.

Sound Characteristics:
Reference-10.32 has extremely high fidelity; its SQ is neutral. It can show how good or how bad a recording is.
If only the RCA or 6.3MM headphone is used, is the Reference-10.2 being wasted or not fully utilized?
Reference-10.32 is a real balanced DAC built in headphone amp . It has balanced output (ACSS, XLR and balanced headphone output) and single-ended output . There are 4 ACSS amplifiers in the Reference-10.2 for balanced outputs and balanced inputs. Even when a single-ended output is used, the 4pcs PCM1704UK DA chips will perform fully thanks to the fully balanced design.
Note:
Reference-10.32 have 3 feet under bottom side for the best balance state , if customers want 4 feet , please ask the custom order .
Modification guide on headphone jack for 4-pin balanced headphone output.
Click here to read: modification guide
Parts for the modification is USD30. (Includes one female 4-pin plug and one male 4-pin plug, some tapes and some WBT tin solder.)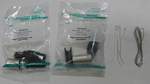 ¡@