Please read before power on the Precision 3 :
1,Precision 3 had the RCA and ACSS inputs, there is a switch on the center of rear.
The switch push into for select RCA input, and pull off for select ACSS input.
Please note you must select the switch while the unit power OFF.
You can not short the outputs of Precision 3, even though it had built in protect but still will lost the warranty.

2, Precision 3 is a pure power amp, you must have a preamp or headphone amp feed to it.
You CAN'T feed to it from a fixed level output DAC , in case it may damage your speakers or headphones.
If connect to Audio-gd NFB11, NFB28 , NFB29 or NFB27 ect models, you must ensure the DAC had setting on variable output mode.

3, Precision 3 is a stereo power amp, you can use it drive a pair speakers , or a headphone through adapter cable.
4, Two units Precision 3 can working as bridge mode for boost the output power up to 200W per channel, you may need buy the bridge cable to connect two units.
You must have a balance output preamp for connect two units Precision 3.
Please note, in bridge mode, the speaker connect as below, the red RCA or ACSS cable connect to right input (your face to Precision 3 face, right side input is right input), and the black RCA or ACSS cable connect to left input. The right output connect to speaker as + and left output connect to speaker as -. The output - of Precision 3 don't want connect .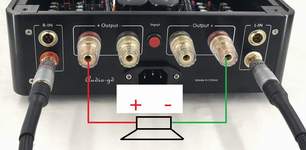 5, Two units Precision 3 can working as Bi-amp mode for boost the power up to 140W per channel. You may need buy the bi-amp cable for connect the Precision 3. And you must have two pair speakers for connect the speakers working with separate amps.
You can connect the Precision 3 with a balance or unbalance preamp.
Please note , in Bi-amp mode, your speakers must have the real bi-wires design.
In our experiences, some speakers even have the 2 groups inputs but they just simply connect as normal 1 groups input.
We are advice you test your speakers if had the real bi-wires input before purchase the Precision 3 .
Test method:
Usually the speakers have the cooper jumpers connect between two groups inputs, take off the jumpers let the one groups without any connect, if the speakers lost some sound, your speakers are the real bi-wires connect.
You can not connect the bi-amps to a fake bi-wire speakers, that will damage the amps and lost the warranty.
In case , you can connect one Precision 3 working for one speaker, the Right output connect to bass and left output connect to tweeter .
In our experience, bi-amp can sound better than some electric frequency divider .



Please click to choice speaker cable if you need : Cables

¡@