About NFB-7.38
Simple and short signal transfer is best:

The NFB7.38 applies the newest ESS high-end Sabre32 DA chip ES9038 which can support up to 32Bit/384KHz input .
ES9038 in voltage output model , there is -12DB THD+N worst , to be achieve the best performance of ES9038 , must work in current output model .
In some other ES9038 built in DAC design , ES9038 output signal have to through 3 step OPAs implement analogy signal process .
The NFB7.38 had different design , applies Non-feedback ACSS design. The ES9038 feed to the ACSS circuit by balanced model without any OPAs .
The ACSS circuit naturally working in current model and have design difference current input , it can transfer the ES9038 current signal to output and implement the I/V conversion in current model in one ACSS amp . And this ACSS amp only have one current gain stage , the ES9038 output signal only through one stage can arrive the output stages .
The shortest signal journey can reproduce the best detail and dynamic, and almost without sound coloration , It can show the real performance of the ES9038 .
So our ACSS design is the best combo with ES9038 achieve the best performance .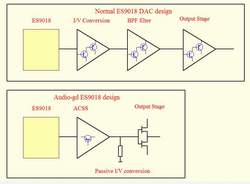 The ACSS also is a non-feedback technology made with fully discrete amplifiers. Most people know the global feedback design can offer better specs in test measurements, and non-feedback can't do well in test measurements but can offer better sound for the human's ears. Here is a conflict of the classic circuits.
But the ACSS opens a new field, it can offer a least coloration sound which is more neutral with very low distortion and high linearity. So it can retain the dynamics, detail and neutral sound but not sound bright or harsh.
The output buffers are Non-feedback. For low impedance, we applied a diamond output stage which is quite less colored than most conventional circuits.
The DAC is without couple caps to avoid coloration. There are two OPAs built in as the DC serve to keep the DC offset .
The 32bit / 384K USB interface outputs a I2S signal to ES9038 .

Multi-ply Class A power double-stage PSUs supplies are the key of sound :
NFB7.38 applies the excellent DA chip ES9038 and excellent analog output stages, but these are not the only keys of the best sound. The power supply is most important. Even applying the best DA chip and the best amp, if matched to a average power supply, the total sound may still be average or sound musical but can't be neutral and detailed. That is why it is easy to find hi-end grade gears maybe without the best chips , but with plenteous dedicated DC supply circuits.
The NFB7.38 uses A total of 15 groups of high-quality class A parallel connection PSU connect become double-stage PSU power supply for all digital and analog circuits.
To achieve high S/N, the control circuit is powered with separate regulator.

Diagram of the Double-stage Class A PSUs for analogy parts Diagram of the Class A Double-stage PSUs for digital parts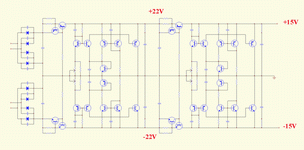 Built in Amanero combo384, the best USB interface in world :
NFB7.38 had built in the Amanero combo384, it had been consider the best USB interface in world, don't bother the USB interface performance and sound quality anymore .

Built in Hi-End grade parts :
NFB7.38 have built in most high end grade parts, like the DALE resistors (USA), WIMA caps (Germany) and NOVER parts (UK) .
These parts have through long term practices and consider have least sound coloration .
Built in high end grade parts have not warranty have the good sound , but the best technology design with high end grade parts can have the high ended sound quality .
¡@